Za građane Bosne i Hercegovine, naročito one koji su morali napustiti svoja ognjišta zbog akata koje su počinili sljedbenici genocidne i zločinačke politike ratnog zločinca Radovana Karadžića, ali i za hiljade preživjelih koji su ostali da pamte ove zločine još uvijek tražeći svoje najmilije po masovnim grobnicama, izricanje ove presude Radovanu Karadžiću predstavlja samo dokaz selektivne pravde koja je gora od svake nepravde.
Kada je uhvaćen ratni zločinac Radovan Karadžić, Bošnjaci su dobili tračak nade, jer je napokon postalo moguće izvesti ga i pred cijelim svijetom optužiti za genocid, masovna ubistva, masovne deportacije, masovna silovanja, koncentracione logore, etničko čišćenje i razaranje gradova.
Na žalost, iako je jasno da će ruka pravde stići sve počinitelje teškog kriminala, ova presuda nije donijela pravdu za žrtve, i ne možemo reći da smo zadovoljni izrečenom kaznom jer je bilo kakva kazna ratnom zločincu premala da nadoknadi bol koji i dan-danas imaju oni kojima su najmiliji ubijeni na najsvirepiji način, ali i majke, sestre i kćerke koje su preživjele mnogobrojna zla i okrutna djela.
For the citizens of Bosnia and Herzegovina, especially those who had to leave their homes because of acts committed by followers of genocidal and criminal politics of war criminal Radovan Karadzic, but also for the thousands of survivors who were left to remember these crimes while still looking for their loved ones in mass graves, reading this verdict to Radovan Karadzic is the evidence of selective justice which is worse than any injustice.
When war criminal Radovan Karadzic was caught, Bosnians were given a glimmer of hope, because it finally became possible to bring him out, and before the whole world accuse him of genocide, mass murder, mass deportations, mass rapes, concentration camps, ethnic cleansing and the destruction of cities.
Unfortunately, while it is clear that the hand of justice will eventually reach all perpetrators of serious crime, this verdict has not brought justice for the victims, and we can not say that we are satisfied with given verdict because any punishment of war criminal is too small to make up for the pain felt even to this day by those who have loved ones killed in the most cruel way, but also mothers, sisters and daughters who survived many evil and cruel acts.
Imam Sabahudin Ćeman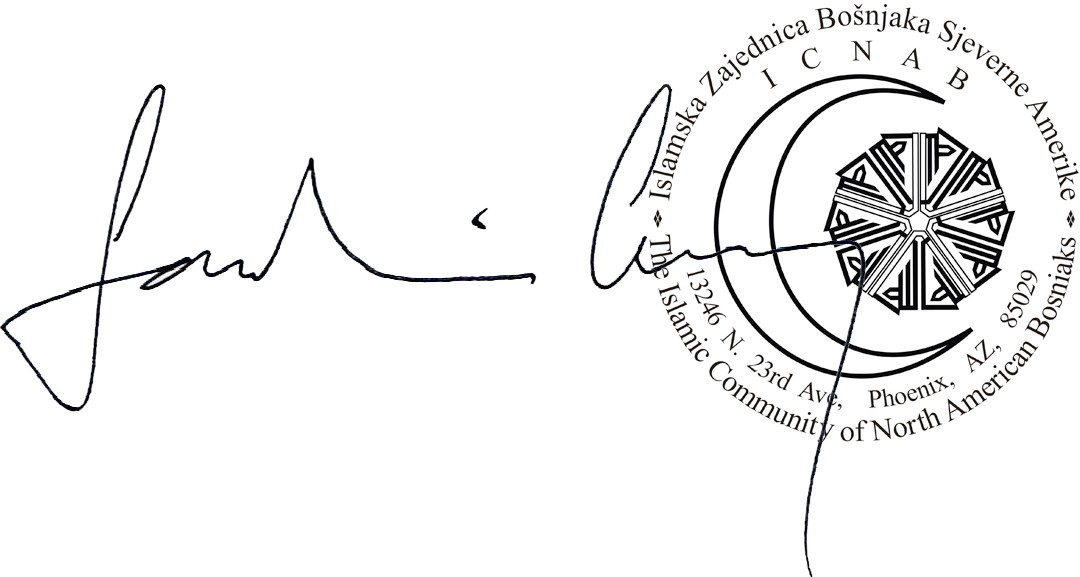 Head Imam and President
Islamic Community of North American Bosniaks